How To Make a Loop Recording
Windows Mixer Architecture
The following is a map of Windows Mixer architecture. The RED LINE is an audio source for loop recording. If this audio source is selected,all wave out audio will be sent to recorder. That is to say,you can record what you hear from your sound card!
BUT the name of this audio source varies with kinds of sound cards. It's maybe Stereo Mixer or Wave Out or Wave. Please try to select it in recording control. If you cannot find Stereo Mixer or Wave Out or Wave ,please try to select other conceivable audio source.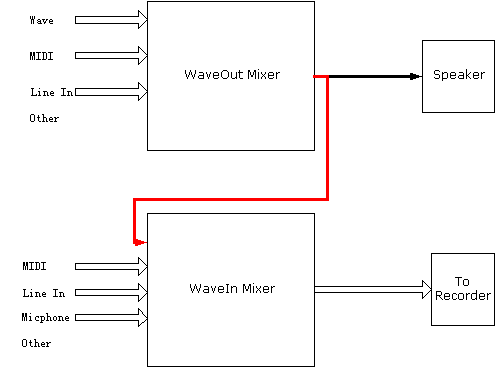 Recording Control Example
To open recording control in windows,run volume controls(mostly in your system tray

),click options/properties,select recording,check all volume controls in "Show the following volume controls".And at last,press OK button.