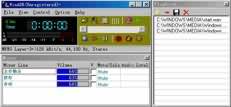 Click to Buy now
WinADR is a sweet gift for all your friends and family.

Unconditional 30 day money back guarantee - 100% Guaranteed
Choose from:




NOW for only $29.00 downloaded from Internet.
A registration code is emailed to you immediately!


Tech support and upgrades are FREE FOREVER for registered users.
-or-
For Site License($299.95) Please Click HERE,we can add your LOGO to the software.
Methods of payment for email registration:
1) Secure on-line credit card transaction

2) Phone : credit card

3) Fax : credit card

4) Regular mail - check, money order, traveler's check

5) Outside of US ?no problem!
If you have any questions regarding Sales, Ordering and Pricing
Send Email to:
www@artech365.com
For telephone, Fax and Mail Orders, please click the buying URL to fill in the order infomation. The pages will guild you for further operation.

Online with Credit Card
Telephone/Fax/Mail/Paypal Order

All major credit cards like Visa, MasterCard, American Express, Discover/Novus, EuroCard and EuroCheques are accepted.
To order online now with credit card, click on the links of respective products in the price table above.

If you would like to make payment for an order by Telephone/Fax/Mail/Paypal, simply fill out the Order Form as you normally would and select "Phone/Fax/Mail/Paypal" on the "Method of Payment" section, this will provide you with the phone number you need to use to call in your payment information.